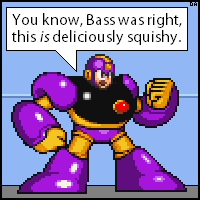 Even if Nate eating Helmut wasn't a ridiculous idea given what he had just done to the Met Demon, it was a mistake not to anticipated that he might try to merge with him after Bass had done the same thing.

Oh wait, they did.

By the way, if Bass + Nate = Bate, Helmut + Nate = Hate, which is rather appropriate.

Originally, I was going to have this Helmut-Nate hybrid be purple to indicate the presence of the Helmeted Author, but I ultimately decided to stick with the same coloring Bate had.